Hiroshi Gunji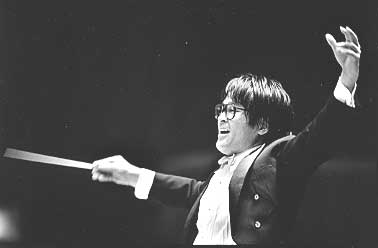 photo by Hiroshi Ito

Hiroshi Gunji studied conducting with Kazuo Yamada and Hans Lowlein. His choirs regularly perform with Japan's leading orchestras, including the Japan Philharmonic, the Japan Shinsei Symphony Orchestra, the Tokyo City Philharmonic Orchestra, the Tokyo Metropolitan Symphony Orchestra and with first rate European orchestras such as the Hamburg Philharmonic Orchestra, the Berliner Symphoniker and the Israel Philharmonic Orchestra. He has led his choirs in concert tours of Europe, among others in Salzburg, Berlin, Hamburg, Dublin and Tel-Aviv. All concerts abroad were joint performances with local choirs to enable cultural exchange between the members. Maestro Gunji's musical interests are wide with a large repertoire of choral and oratorio works ranging from Bach and Handel to Britten, Hindemith and Stravinsky. He has the following professional memberships and honors:

Guest conductor to the Salzburg Music Festival, Dom concert
Organizer of the German-Japan Choral Festival with German, Austria choral groups
Member of the Japan Cultural Affair Agency
Mentor of Beethoven Symphony No.9 for a record of 450 concerts in Japan
Chorus master of Handel Messiah benefit concert annually for 11 consecutive years
Permanent conductor of the Japan Shinsei Symphony Orchestra Choir, the Tokyo Oratorio Society, the Tokyo Laienchor, Choir Keyaki and the Chorus Academy Japan.
copyright&copy 2000 Tokyo Oratorio Society All rights reserved